Morning Talk 2019- "Budget 2020"
November 6, 2019 @ 8:00 AM

-

10:00 AM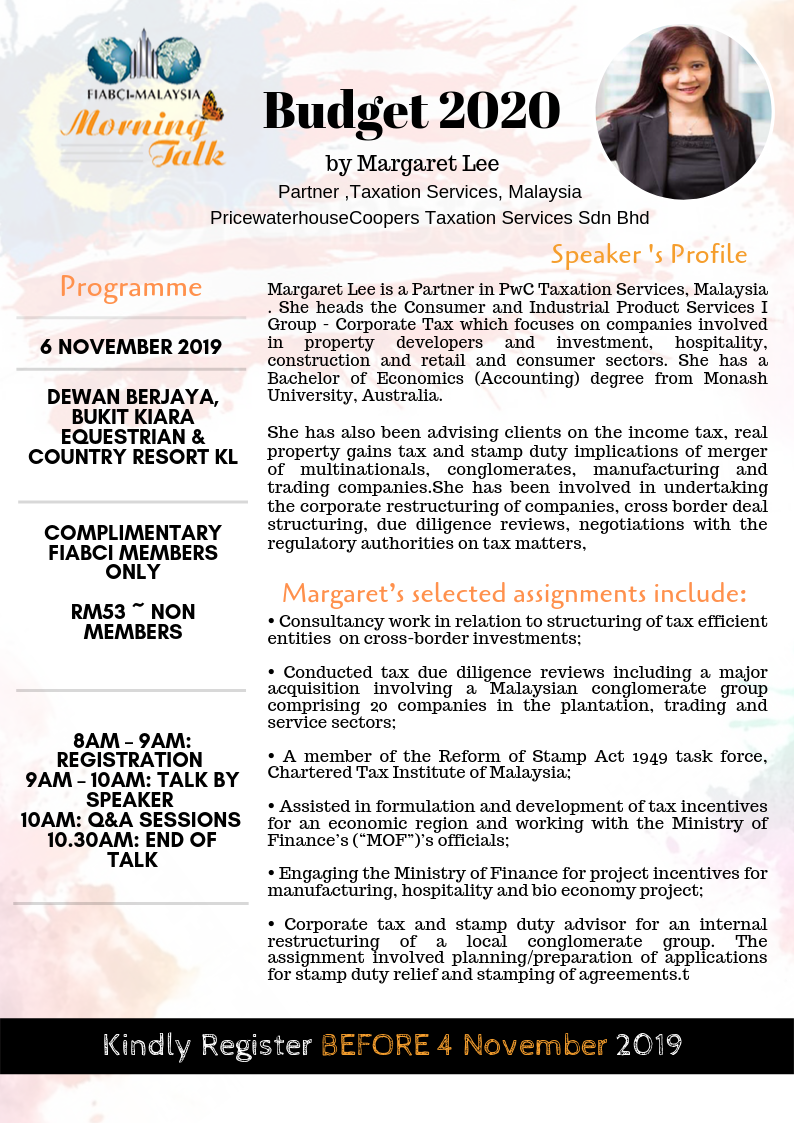 FIABCI Malaysia's monthly Morning Talk is one of the networking activities for members and non-members to interact and update the industry information regularly. It is held every first Wednesday of the month and open free-of-charge to members. Various topics and subjects have been discussed and shared in our Morning Talk since year 2007.
Topic: Budget 2020
Speaker's Profile: Margaret Lee (Partner, Taxation Service, Malaysia PricewaterhouseCoopers Taxation Service Sdn Bhd)
Margaret Lee is a Partner in PwC Taxation Services, Malaysia . She heads the Consumer and Industrial Product Services I Group – Corporate Tax which focuses on companies involved in property developers and investment , hospitality, construction and retail and consumer sectors. She has been with PricewaterhouseCoopers for over 20 years. She has been involved in undertaking the corporate restructuring of companies, cross border deal structuring, due diligence reviews, negotiations with the regulatory authorities on tax matters, etc. She has also been advising clients on the income tax, real property gains tax and stamp duty implications of merger of multinationals, conglomerates, manufacturing and trading companies.
Margaret's selected assignments include:
• Consultancy work in relation to structuring of tax efficient entities on cross-border investments;
• Conducted tax due diligence reviews including a major acquisition involving a Malaysian conglomerate group comprising 20 companies in the plantation, trading and service sectors;
• A member of the Reform of Stamp Act 1949 task force, Chartered Tax Institute of Malaysia;
• Assisted in formulation and development of tax incentives for an economic region and working with the Ministry of Finance's ("MOF")'s officials;
• Engaging the Ministry of Finance for project incentives for manufacturing, hospitality and bio economy project;
• Corporate tax and stamp duty advisor for an internal restructuring of a local conglomerate group.
The assignment involved planning/preparation of applications for stamp duty relief and stamping of agreements. Margaret is a registered member of Malaysia Institute of Accountants, Malaysian Institute of Taxation, Malaysian Institute of Certified Public Accountants and Registered Tax Agent. She has a Bachelor of Economics (Accounting) degree from Monash University, Australia.
SEATS IS PRECIOUSLY LIMITED! Kindly register before 4 November 2019 avoid disappointment. 
Please download the brochure and the registration form here.
Should you require further information, please do not hesitate to contact the secretariat at 03-6203 5090/91 or email at fiabcimalaysia@fiabci.com.my.