Morning Talk 2019- "TOWARDS KUALA LUMPUR 2040"
July 3, 2019 @ 9:00 AM

-

10:00 AM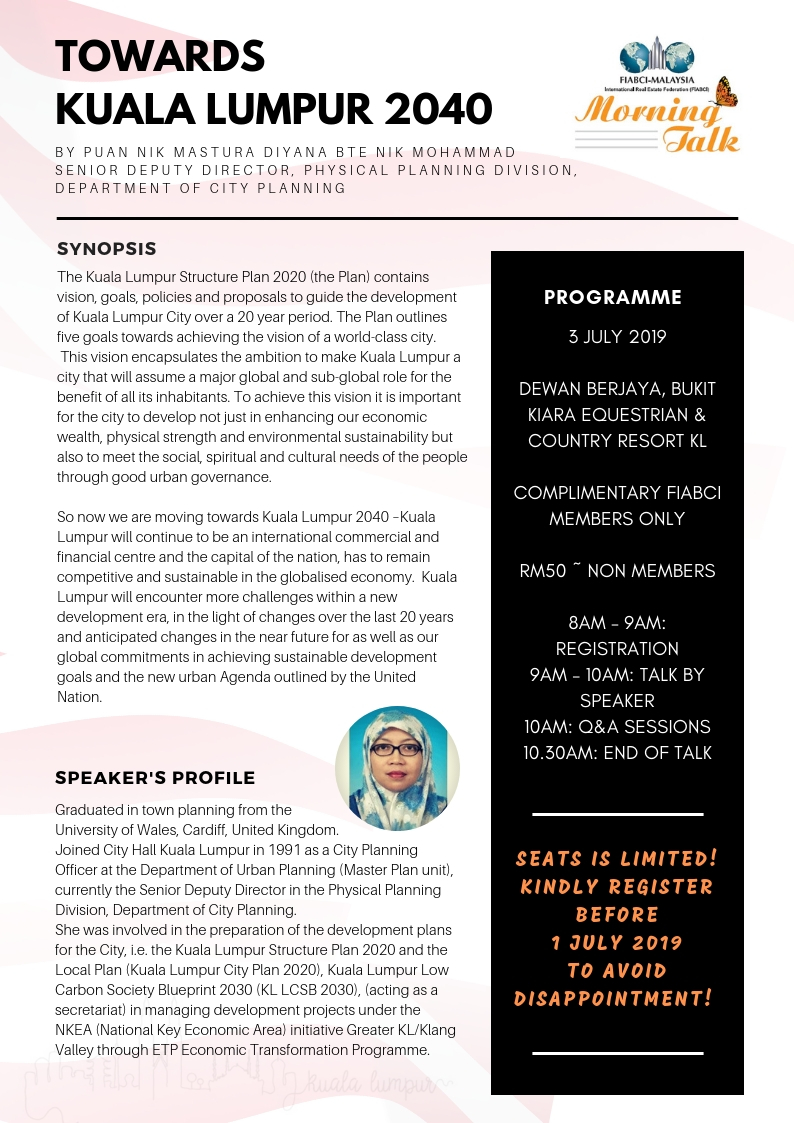 FIABCI Malaysia's monthly Morning Talk is one of the networking activities for members and non-members to interact and update the industry information regularly. It is held every first Wednesday of the month and open free-of-charge to members. Various topics and subjects have been discussed and shared in our Morning Talk since year 2007.
Topic: "TOWARDS KUALA LUMPUR 2040″
Speaker's profile: Puan Hjh. Nik Mastura Diyana binti Nik Mohamad, Deputy Director of City Planning Department,
Graduated in town Planning from University of Wales, Cardiff, United Kingdom. She was involved in the preparation of the development plans for the City, i.e. the Kuala Lumpur Structure Plan 2020 and the Local Plan (Kuala Lumpur City Plan 2020). She was very much involved in the early stages of plan preparation processes, from the formulation of development strategies, policies and key initiatives, engaging the public and ensuring that they are in line with the targeted vision and goals to be a world class city by 2020.  Formulation of planning frameworks for further implementation through detailed strategic directions and key initiatives were formulated in guiding the development and progress of Kuala Lumpur in future.
SEATS IS PRECIOUSLY LIMITED! Kindly register before 1 July 2019 to avoid disappointment. 
Please download the brochure and the registration form here 
Should you require further information, please do not hesitate to contact the secretariat at 03-6203 5090/91 or email at fiabcimalaysia@fiabci.com.my.