CPD Seminar – Property Management Time Bomb Seminar 2018 (Series 10) – Strata Management : The Way Forward
July 17, 2018 @ 8:00 AM

-

6:00 PM

$566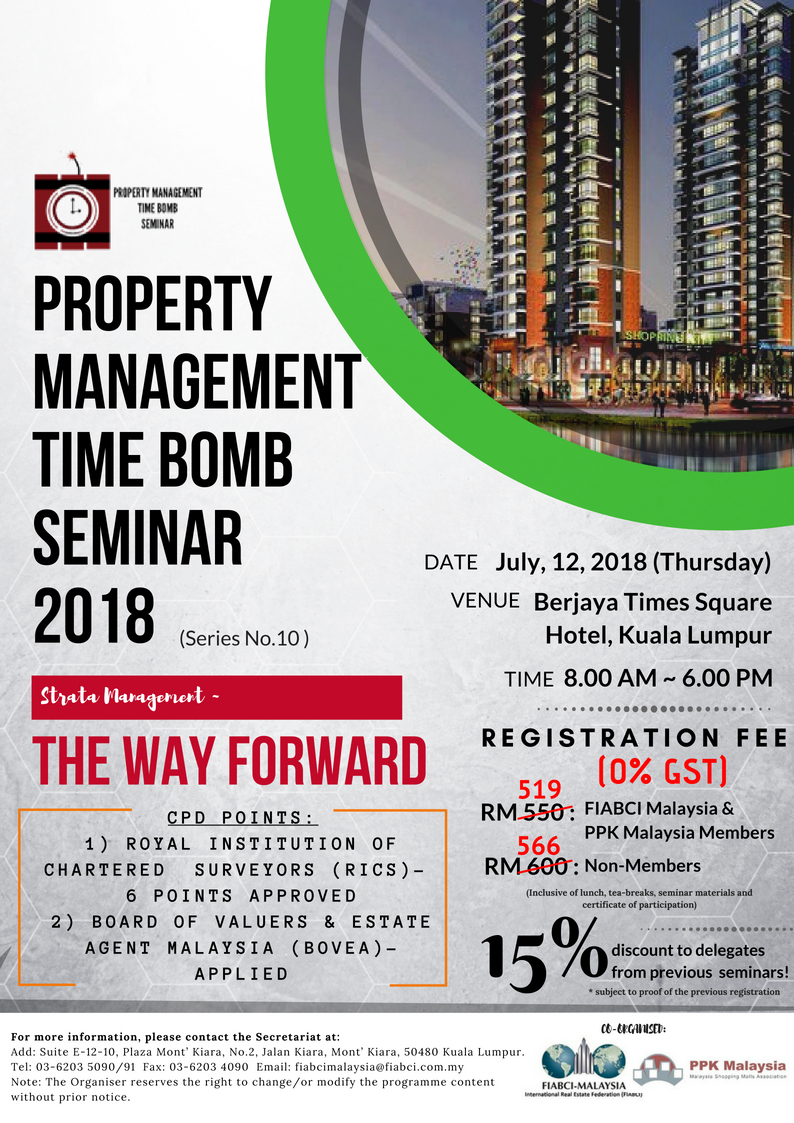 PROPERTY MANAGEMENT TIME BOMB SEMINAR (SERIES .10)
– "STRATA MANAGEMENT – THE WAY FORWARD"
All our seminars over the past years have always attracted enthusiastic response from participants eager to learn from the experienced speakers and industry practitioners on how to solve their problems in managing strata properties.  This year's theme "The Way Forward" envisages further improvements and streamlining of management processes particularly for all strata property owners, developers and strata managers. We look forward to continuously improve and maintain the momentum in strata management for long-term sustainability and to enhance the desired lifestyle of the strata community.
Proposed Programme 
8.30 a.m. – 9.00 a.m.
Registration & Welcome Coffee
9.00 a.m. – 9.10 a.m.
Welcome Address

by YM Tengku Dato Ab. Aziz Tengku Mahmud, President, FIABCI Malaysian Chapter

9.10 a.m. – 10.00 a.m.
Registration of Property Managers – Impact on the Industry 

by YBhg Tan Sri Dato' Teo Chiang Kok, President, Persatuan Pengurusan Kompleks Malaysia (PPK)/ Director, Bandar Utama Corporation Sdn Bhd

10.00 a.m – 10.20 a.m
Morning Refreshment
10.20 a.m – 11.00 a.m
Overview of Strata Management in Mixed Developments

By Mr. Richard Chan, Organising Chairman/Advisor PPK Malaysia

11.00 a.m.–12.30 noon

Case Studies on Strata Management

by Ms. Lee Kim Noor, Principal, KN Lee Associates

12.30 p.m. – 2.15 p.m.
Lunch
2.15 p.m. – 3.00 p.m.
Common Problems for Strata Property Owners

By Mr Roshan a/l Karthi Kayan, Sr Legal Officer, Ministry of Urban Wellbeing, Housing and Local Government

3.00 p.m. – 3.20 p.m.
Afternoon Refreshment
3.20 p.m. – 4.05 p.m.
Strata Title – Current Issues (TBC)

by Sr. Chan Keat Lim, Past Hon. Secretary General, Royal Institution of Surveyors Malaysia (RISM)

4.05 p.m. – 5.00 p.m.
Strata Tribunal – Landmark Cases & Stakeholders' Feedback

By Ir. Lum, Committee for Research, PPK Malaysia

5.00 p.m. –  5.20 p.m.
Q & A

End of Seminar
~The organizer reserves the right to change speakers and / or modify the programme without prior notice.
Registration Fee (0% GST):
Members of FIABCI Malaysia & PPK Malaysia = RM519 nett per pax
Non-Members  = RM566 nett per pax
(Prices above is Inclusive lunch, tea-breaks, seminar materials and certificate of participation) 
15 % OFF for delegate from previous seminar! (subject to proof of the previous registration)
REGISTER NOW !
Click here to download registration form.
If you have further question, please do not hesitate to contact secretariat at 03 – 6203 5090/91 or email us at fiabcimalaysia@fiabci.com.my
**Tax Invoice will be issued