Smart Investment in Property (XIII) 2018
July 19, 2018 @ 8:00 AM

-

5:00 PM

RM365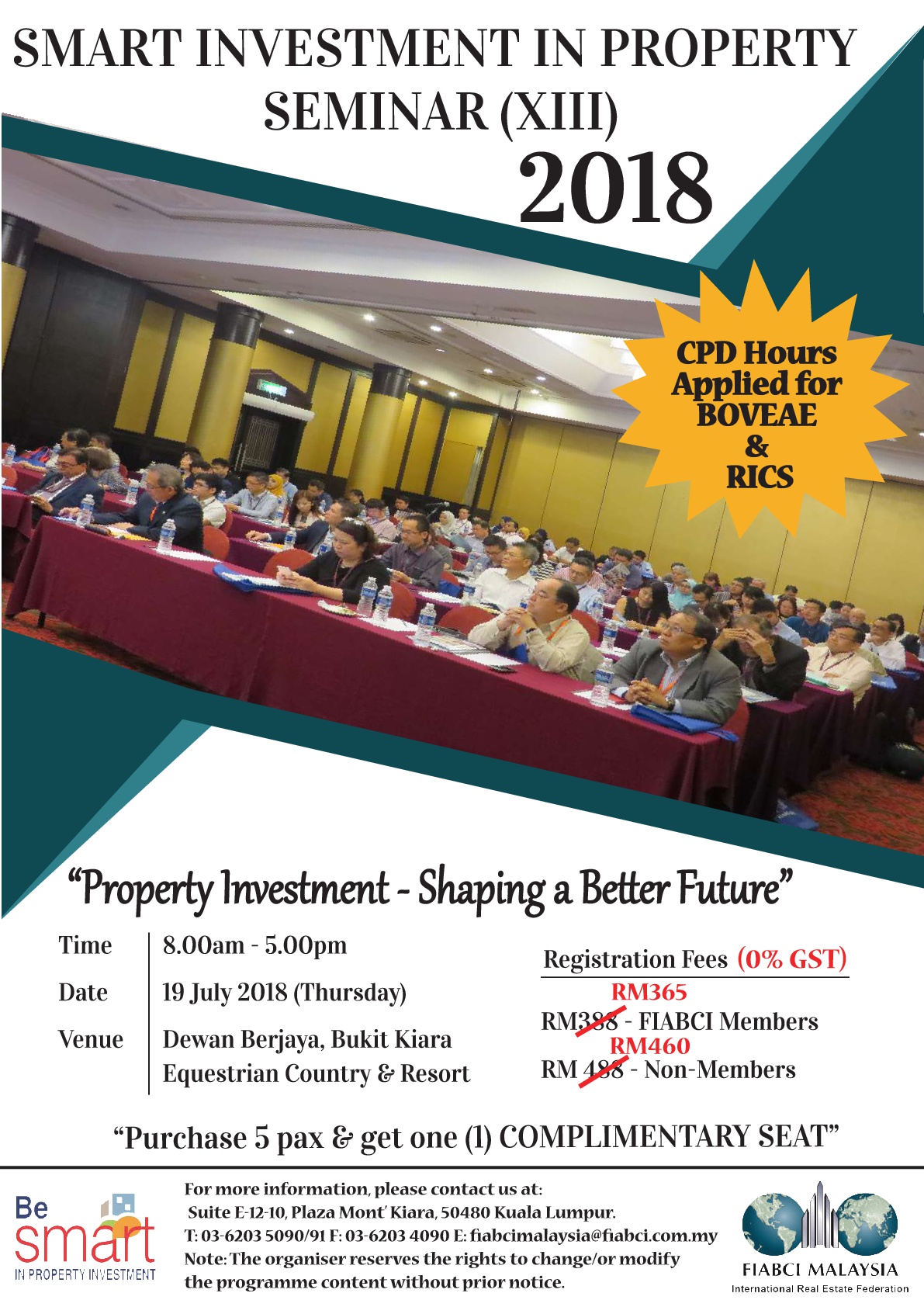 FIABCI Malaysia will be organising the 13th Smart Investment in Property Seminar on 19th July 2018 (Thursday) at Bukit Kiara Equestrian Country & Resort, Kuala Lumpur. We are expecting approximately 100 or more participants will be attending the Seminar which will provide necessary information to prospective homebuyers, investors, employees of developers, other real estate professionals as well as those who may need the latest information and be informed of the current updates on property market.
Proposed Programme 
8.30 a.m. – 9.00 a.m.

Registration & Welcome Coffee

9.00 a.m. – 9.15 a.m.

Speeches by Smart Investment in Property Seminar 2018 Organizing Chairman and President of FIABCI Malaysia

9.15 a.m. – 10.15 a.m.

Paper 1: Economic Outlook – Malaysian 2018 Opportunities & Pitfalls
By Prof. Dr. Yeah Kim Leng, Professor, Sunway University Business School

10.15 a.m – 11.15 a.m

Paper 2: Property Market Outlook – Overall Property Market, Challenges in Residential Markets
By Mr. Nixon Paul, Managing Director, Carey Real Estate Sdn Bhd

11.15 a.m – 11.30 a.m

Morning Break

11.30 a.m.–12.30 noon

Paper 3: Transit Oriented Development (TOD) – Impacts of the MRT Lines & Hotspot for Property Development
By Mr. Ishmael Ho, Chief Executive Officer, Ho Chin Soon Research Sdn Bhd

12.30 p.m. – 1.30 p.m.

Lunch

1.30 p.m. – 2.30 p.m.

Paper 4: Property Manangement – Good Managing of Stratified Property for Investment.
By Mr. Chan Chee Keong, Richard, Advisor, Consultant RCMC Sdn Bhd

2.30 p.m. – 3.30 p.m.

Paper 5: Digital Marketing – How Does Evolution of Digital Marketing Affects Property Project Marketing Campaign"
By Mr. Tan Kian Aun, Hartamas Real Estate Sdn Bhd

3.30 p.m. – 3.45 p.m.

Coffee Break
3.45 p.m. – 4.45 p.m.

Paper 6: Property Law – Aftermyth of Strata Legistration – Devil or Savior?


By Dato' Pretam Singh Darshan Singh, Partner, Pretam Singh, Nor & Co. Advocates & Solicitors

4.45 p.m.

End of Seminar

Smart Investment in Property Seminar started since 2003, FIABCI Malaysia aims to educate the general public on how to invest and benefi from investments in property, through the Smart Investment In Property Seminar series. Throughout the years, the seminar series has been serving as an information platform for the general public to gather the information they need in their investment plans. Costly mistakes made due to insuffiient information and experience could be painful for the fist-time property investors, hence the Smart Investment In Property Seminar series are often seen as a guru to them, equipping them with firm foundation of knowledge in property investment.
Throughout the years, FIABCI Malaysia has been working hard to engage prominent speakers to share on topics of general property investment interest as well as providing the latest information in the real estate ondustry. Other than that, FIABCI Malaysia has never failed to help the public to make the right choice in their property investments, maximizing their returns and avoiding costly mistakes while at the same time informing them of opportunities in property as investments as this seminar series provides a complete range of topics to keep the buyers well informed on the latest information, tips and opportunities in property investment.
If you have further question, please do not hesitate to contact Ms. Johanna at 03 – 6203 5090/91 or email us at fiabciamalaysia@fiabci.com.my
Click here to download registration form.
Tickets are not available as this event has passed.